REC is building an all new fiber-optic network to connect its substations, towers, and offices.  REC has approximately 110 substations, 13 towers, and 5 office locations. Once completed, there will be more than 820 miles of fiber-optic cable running throughout REC's service territory.
The network will replace REC's 30-year-old microwave communications between each of its offices. This is needed to support advanced business systems REC plans to implement over the next several years and will allow for fast restoration of critical systems in the event of a disaster. Finally, it will support advanced substation and field communications.
The new fiber-optic network will be capable of transferring far greater amounts of data per second compared to the existing microwave system. It is reliable in all weather conditions and has a 30-year plus lifespan. The fiber will be installed using REC's existing infrastructure such as poles and related equipment.
Although REC will not be running fiber to individual homes and will not provide internet service directly to member-owners, this fiber-optic project will offer a variety of benefits for our member-owners. It will allow for improved technologies that can detect outages faster, thereby reducing outage times. While there is no plan for REC to enter the retail broadband business, the Cooperative is installing extra fiber which it will make available for leasing arrangements with local governments, schools, and other third parties.
As we move through the phases of the project, members will be notified in advance that they may see REC trucks or our contractors in their neighborhoods or at their property. Communication channels will include letters and phone messages at this time.
Frequently Asked Questions
Fiber-optic technology is the fastest broadband technology available today, capable of nearly limitless bandwidth. No other wireline or wireless technology compares. It uses pure glass strands to transmit data via light waves.
Faster Internet connections and the ability to send and receive large amounts of data instantly are the main benefits. Fiber-optic is also more reliable and less susceptible to communication outages than any other technology. Fiber-optic networks support advanced services, such as ultra-high-definition video and massive data transfers.
As a cooperative business, REC is owned by its member-owners. Its sole purpose is to bring safe, reliable, affordable, and sustainable energy solutions to its communities, not to earn profits for investors. The fiber-optic network will enhance and strengthen REC's infrastructure and will allow for faster restoration of critical systems in the event of a disaster. It will also support advanced substation and field communications. REC is also committed to giving our rural communities an advantage in economic development.
No. REC has been investing responsibly in its network upgrades and will not need to pass on the cost to its member-owners.
We started in the center of our service territory in the Culpeper, Spotsylvania area and continue to build out from there. It will be completed in sections.
Fiber Utility Network Map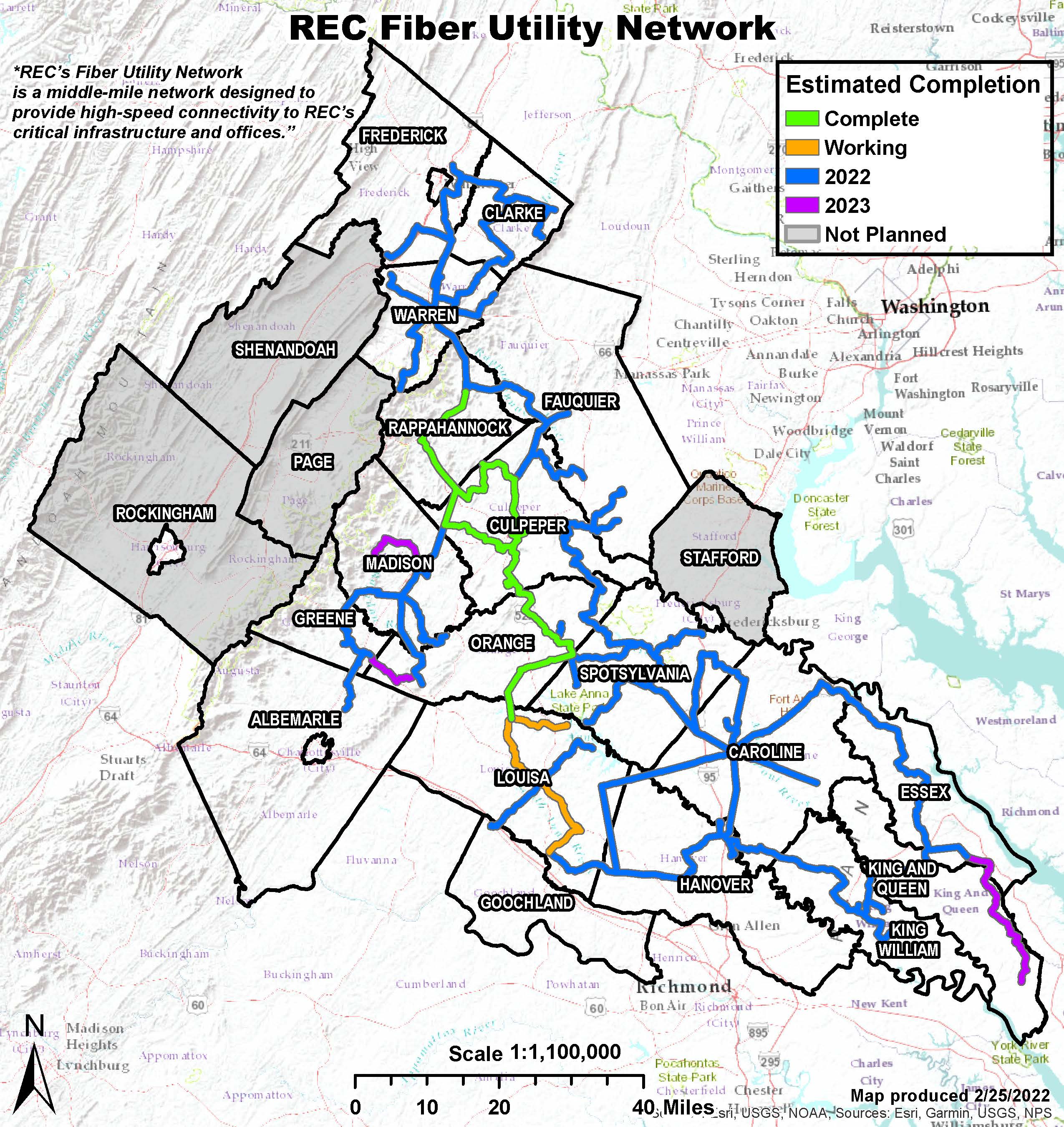 A day that has been years in the making, Thursday marked a major milestone in REC efforts to bring high-speed internet to unserved and underserved com...
Goochland County yesterday announced progress toward extending broadband coverage to all of its residents and businesses. 
REC joins Dominion Energy and Firefly Broadband to provide a broadband progress update and answer business-related questions.