Innovative Technology Bridges Gap Between Members and Cooperative
REC was one of 100 utilities to receive a federal Smart Grid Investment Grant to carry out projects designed to enable members to make energy-efficient choices.
The secure, power line-based communication system used for reading meters is also used by REC to reduce the costs of buying electricity from its wholesale power supplier. Through voluntary demand response programs, REC sends signals to participating members' air conditioning units and water heaters to reduce the amount of electricity used during the peak demand times. By reducing demand across thousands of units at once, REC is able to keep prices stable.

REC is committed to serving members with a smarter grid made possible through the effective use of technology. From improving reliability, to increasing efficiency, lowering costs and enabling additional service and rate options, the smart grid will play a larger role in the way we serve you.
Smart Meters
REC's Advanced Metering Infrastructure (AMI) sends signals carried across the power lines to provide meter readings used for billing, to identify power outages and to even provide personalized energy data for members.
By using AMI to read meters remotely from the office, REC has avoided $1.8 million in on-site meter reading costs, as well as reduced employee exposure to hazards associated with physically visiting each meter each month. The ability to read meters from the office has also eliminated the need to estimate usage, which used to be necessary when severe weather or bad road conditions prevented traveling to each meter location.
Additional benefits of AMI include:
The ability to read a meter on demand, such as when an account needs to be transferred from one member to another.
A smaller fleet of REC vehicles.
Fewer miles driven by REC employees, which saves gas, reduces exposure to traffic accidents and lowers REC's carbon footprint.
The ability to read meters on a daily basis instead of only once a month.
Improved Outage Response
When power outages occur, smart grid technology helps identify outage locations and helps enable crews to get to outage locations faster. Dispatchers send signals to large numbers of meters to determine the scope of outages, which is especially helpful during hurricanes or ice storms when there are widespread problems. When repairs are complete, a signal can be sent to the meter to verify power has been restored.

REC uses automated technology to transfer electric load from one part of the distribution system to another without members experiencing a power interruption. Crews can then work to repair the isolated problem before transferring the electric load back to its original distribution point. This greatly benefits members by reducing the amount of power outages they experience, and reducing the length of outages when they do occur.
Many times, having the power blink is better than the alternative - having it go out completely. Blinks are sometimes caused by devices designed to protect the electrical system
If the problem has cleared the line, power will stay on. If the problem still exists, the recloser will operate again. After trying three times, most reclosers are designed to stay open until the problem is fixed and the device is manually reset. The opening and closing of the recloser is almost instantaneous and is often not even noticed. REC is constantly evaluating our power lines to identify potential blink-causing problems so that we can take preventative measures.
Average Outage Minutes
REC makes system improvements throughout the year to limit the time that members go without power.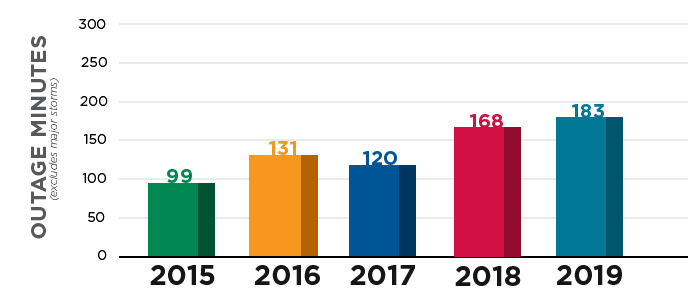 Innovative Tools & Payment Options
REC has introduced tools to provide relevant and timely information to assist members in understanding their energy-use patterns.
My Usage in MyREC SmartHub: Take the surprise out of your monthly electric bill.
Prepay: Choose how much and how often you want to pay before you use electricity.
Time of Use rates. Members who elect the Time of Use rate are incentivized to shift their energy use to times of low demand, and are charged a higher rate for electricity used in the early morning and evening when electricity demand is typically at its highest. AMI allows REC to obtain hourly meter readings that determine which value to charge members on the Time of Use rate.