SAVE MONEY, REDUCE ENERGY USE, and SIMPLIFY YOUR LIFE
MyREC SmartHub allows you to take control of your account all from your computer or mobile device.
Pay your bill
View your electricity use and billing history
Report outages
Get outage text alerts
Find energy-saving tips customized just for you
Sign Up  Sign In to MyREC SmartHub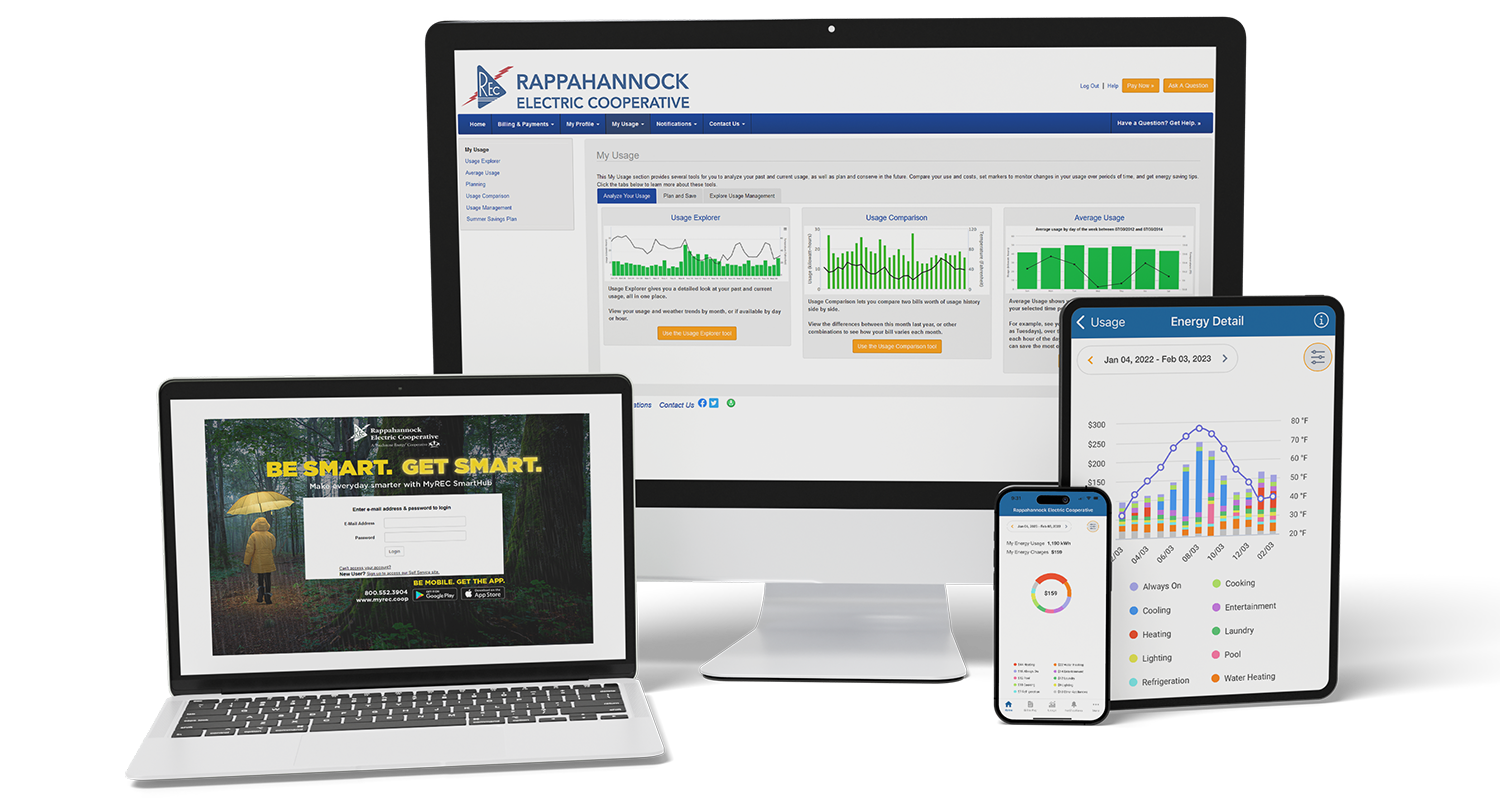 What's Costing You the Most on Your Bill?
Download the App to See How You Can Start Saving Today!
At REC, we are always looking for ways to help you save money and reduce your energy usage. That's why your cooperative is so excited to share a new feature in the MyREC SmartHub app, which is available for free in both the App Store and Google Play. Always wondered how much your clothes dryer, dishwasher or oven is costing you everyday? Now you can find out! With a new upgrade to the MyREC SmartHub app, you can receive details customized just for you.
Some Highlights:
A home energy profile is available for you to fill out. You can then receive emails and alerts customized just for your home.
A monthly summary email will show how much electricity you used during your latest billing period, provide insight into your electricity usage by appliance – and share tips on how to save.
A customized dashboard will spell out in simple terms where you are using the most energy and when.
A budget alert is available for members who want to avoid hitting a customized energy use threshold. A high usage alert tells you when you have exceeded your average energy usage in recent days.  
MyREC SmartHub also includes other robust energy use analytics tools, which allow you to compare energy use over time and against weather data. Tracking your energy use like this lets you see if you're using more energy than usual and empowers you to make adjustments if necessary.
Sign Up for Outage Text Alerts