Please follow these important steps to start electric service.
Apply for service as far in advance as possible by submitting an application and site plan. 
A representative will contact you to issue a work request number for your new service and schedule a site visit.
After the site visit, all necessary paperwork will need to be submitted which includes easements and any electric construction costs.
Once the paper work has been submitted and the site is ready, a county electrical inspection must be conducted. Please notify REC once your site has passed inspection.
General Requirements for Residential Service
The standard voltage for a residence is 200 or 400 amp 120/240 volt single phase. The meter bases and slip joints are supplied by REC but it is the responsibility of the person requesting service to have installed based on required specifications. Meter bases shall be mounted 48" to 72" to center of base above finished grade or surface. Meter bases mounted above a deck or other surface shall be approved prior to installation and conduit extended past the deck or surface shall be required. Extension of the Cooperative's facilities are subject to our current Terms and Conditions on file with the State Corporation Commission. Compliance with the latest edition of the National Electrical Safety Code (NESC), National Electric Code (NEC) and all other applicable local or state safety codes as necessary.
All conduit must be inspected and approved by REC prior to backfilling. REC requires at least a 3 work day notice prior to scheduling an inspection.
Service conduit must be buried to a depth of 30" minimum below finished grade. Conduit specified for primary cables must be buried a minimum of 36" below finished grade. All conduit installations must include red warning tape supplied by REC and installed by a qualified contractor 1' above the conduit. Joint use trenching is reviewed on a case by case basis by the appropriate Supervisor of Distribution Design or other designated personnel. Pull rope and end caps shall be installed by you per REC requirements. Crossings or special conditions may require additional specifications as determined by the Cooperative.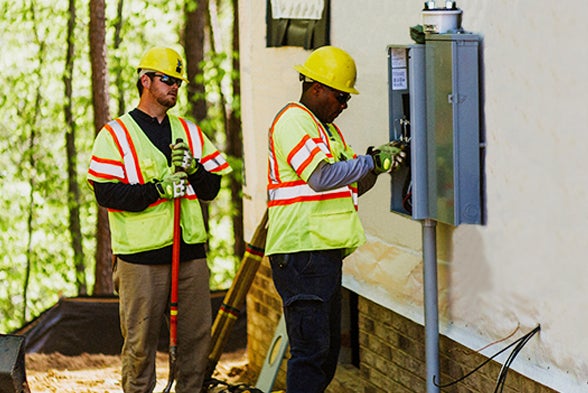 Typical Conduit Installation Requirements
REC will determine when conduit is required for primary or service installations. It is your responsibility to provide and install the conduit to REC's specifications.
Conduit diameter is determined by REC. All exposed conduit shall be schedule 80 PVC utility grade (gray). Buried conduit may be schedule 40 PVC utility grade (gray).
If work needs to be done inside the meter base, it must be coordinated with REC. No one, other than REC personnel, can cut or remove the seal. A county electrical inspection is required on connections. REC requires notification from the authority having jurisdiction for connections which are subject to a waiver of inspection. 
List of service sizes and voltages allowed by the Cooperative for residential connections.
200 amp single phase 120/240 volt
400 amp single phase 120/240 volt
200 amp 120/208 single phase subject to the Terms and Conditions. (This connection requires a fifth terminal installed by the Cooperative) Any service sizes not covered in this section are subject to Cooperative approval.
Member Owned Meter Center Responsibility Agreement  New Residential Service Application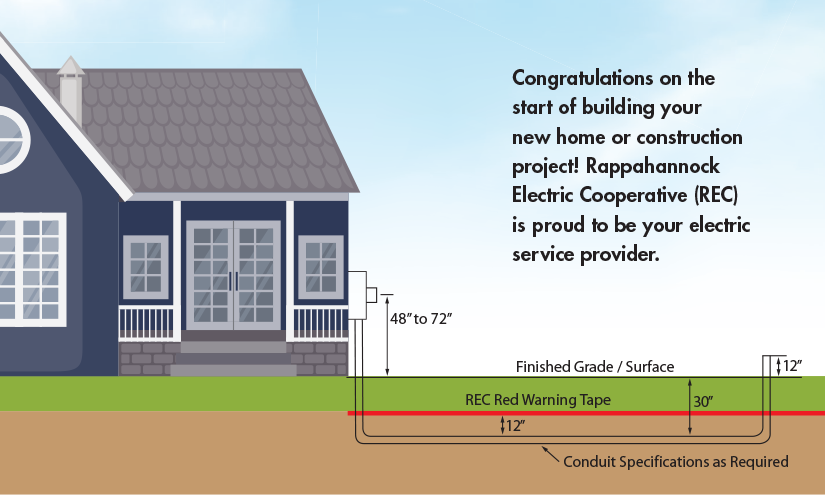 We look forward to providing electric service to your new property and would like to take this time to welcome you as a new member to our electric cooperative family. The installation of electrical facilities is governed by state and local regulations and guidelines, as well as REC policies. These regulations, guidelines, and policies identify the terms of the business relationship between members and REC, and, ensure electrical facilities are designed and installed equitably, legally and safely.

1. In an effort to make your customer service experience flow more expediently, we would ask that you have the following information available when you contact our field engineering personnel to make your request for new electric service:
911 address and county of the property where you want new electric service connected
Billing address, if not the same as new location
Names, social security numbers, and contact numbers for the members requesting new electric service
Type of structure you are requesting new electric service to (Home, Barn, Garage)
Amperage of electric service being requested (200,320,400)
County Tax Map and Parcel numbers
Square footage of the structure being connected
Type and size of heating and cooling system to be used (heat pump tonnage or BTU)
Type (electric or gas) of additional load, water heaters, cooking range, dish washers, washer/dryers
Type of service being requested (overhead or underground)
If known, the location of nearest REC electrical facilities to structure you are requesting new service for
Faxable copy of site plan, showing structure site, drain fields, well, or water and sewer facilities and location of any other private facilities
2. Once you have contacted our field engineering department and provided this information, your request will be assigned a work request number that will be provided to you. Please keep this number available as you will need to give it to your respective county building inspectors office to coordinate their electrical inspection on your new property. It will also be for your reference going forward, to acquire information from the Cooperative regarding your request. At this point, a Distribution Designer from our Field Engineering department will be assigned to your request. Within a few days they will either meet with you on site or contact you asking for information. When they visit the site they will determine the route and type of facilities required to provide service to your property, and the following is a list of what they will provide to you so your request can move to the actual construction stage:
A meter base to be installed by your electrician, who will need to notify the Cooperative when installation is complete
Information on policies and regulations that apply to your request for service
Easements and/or contracts that will need to be signed and notarized by you and returned to the Cooperative
A cost for the work to be done, which will need to be paid prior to the beginning of any construction
A contact to Miss Utility, when needed, to locate all utilities in the area of construction
Once you have fulfilled your responsibilities as described above, and we have received the electrical inspection approval from the respective county building inspectors office, your request will be forwarded to our construction department for the scheduling of the actual installation of Cooperative facilities. The timeline between the electrical inspection approval notice and the actual connection of service varies greatly due to many factors including weather conditions and work load. However, your Distribution Designer will be able to provide an estimate of this timeline when the job is released to the construction department for scheduling. We again welcome you as a new member, and we want the above described process to flow as quickly as possible. Should you have any questions or concerns about the information provided above, please call 1-800-552-3904 to contact anyone in our Field Engineering Department, and they will assist you.