REC Announces Net Bill Reduction in 2021
Date Published
January 21, 2021
REC has announced a net decrease to REC member-owners' electric bills. This reduction is the result of a decrease in the Power Cost Adjustment (PCA) for 2021, which is being partially offset by a modest rate increase to distribution costs. 

A typical residential member-owner using 1,000 kilowatt hours (kWh) per month will see a bill reduction of nearly $6 per month beginning in January. The bill decreases are a result of REC passing along cost reductions from its wholesale power provider, Old Dominion Electric Cooperative (ODEC). 

"Ultimately, the combination of ODEC's long-term power contracts and new investment in power generation, including a growing mix of renewable sources, will reflect as a reduction to the PCA," explained Matt Faulconer, REC's manager of external affairs.

In addition to the significant reduction in the PCA, the rates for delivering electricity to a member's home or business are rising by five percent. REC's Board of Directors approved the five percent increase to help pay for efforts to increase reliability and resiliency. 

Together, the two changes for a member using 1,000 kWh of electricity is a bill reduction of $5.78. This means that members will save five percent on their electricity costs in 2021. 

"REC is pleased to be able to allocate needs for the growth and upkeep of the electrical system while at the same time reducing the overall power bill," said John Hewa, REC's president and CEO.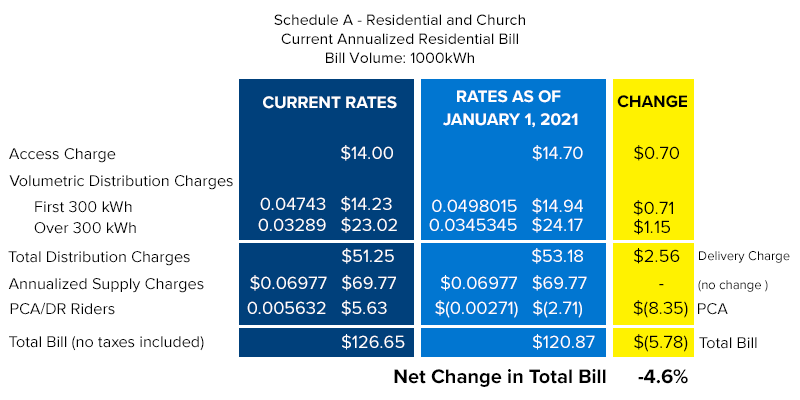 The rate changes that went into effect for all bills issued on and after January 1, 2021 were the result of two events. The first is a 5% increase in the distribution rates. This affects the portion of the bill that covers the delivery of electricity to your home or business.  This change adds $2.56 to the typical residential bill for a 1000 kWh per month. The approximately $7.5 million in additional distribution revenue will fund reliability improvements and resiliency efforts. 
The second event is a reduction in the Power Cost Adjustment (PCA).  The PCA modifies the rates for generating and transmitting electricity, referred to as wholesale power costs, which can vary significantly year-to-year.  For 2021, wholesale power costs are expected to be $23 million less than the previous year.  As a result, the PCA Factor is changing from a charge of $0.00559 per kWh to a credit of $0.00275, reducing the generation charges for 1000 kWh by $8.35 in 2021.
The net effect of these changes for a residential member-owner using 1000 kWh per month is an overall reduction of $5.78, or 4.6%, per month.  
REC is required, by the State Corporation Commission, to provide electricity (generation and transmission) at cost, meaning the savings from reduced wholesale power costs cannot be used to help the fund the delivery of electricity.  
The requirement, as a government regulated utility, to keep the various components of providing electric service separate (distribution and wholesale power) is why one portion of the rate is increasing while another is decreasing.  
The PCA reflects the increases and decreases in the cost of power that REC purchases wholesale from Old Dominion Electric Cooperative (ODEC). When these costs change, the difference is passed along through a power cost adjustment on monthly bills. 
It can be more than once per year but typically it takes place once per year in January.
This is the first time REC's Board of Directors has utilized the authority granted to them in 56-585.3 (A)(2) of the Code of Virginia. The Board takes very seriously decisions to change REC's rates, and remain focused on keeping electric rates affordable. Decisions to change REC's rates are made as needed, usually based on the increases in the cost of doing business.
Distribution rates are the costs of delivering electricity to member-owners. These costs include maintenance of the electric system infrastructure, payroll, and equipment used to deliver electricity.
REC is a power distribution cooperative and does not generate electricity. The electricity that REC distributes to its member-owners is supplied by ODEC which also provides power to 11 ODEC-member electric cooperatives in Virginia, Maryland and Delaware.